How to register my Java cell phone version with my subscription license number?
Please note, that you need to have an internet access in order to register with your subscription license!
If you have purchased the subscription version of SiDiary you can register all program versions (PC, Pocket PC, Windows Smartphone, Android and Java-based cell phone) to use SiDiary for 12 months without adware restrictions and commercial popups.
In order to do so, please follow the steps below in the correct order as described:
1. Set up SiDiary-Online:
A guide on how to register your SiDiary online
can be found if you click here.
2. Register your SiDiary on the Java cell phone:
Open the about dialogue (Menu ->Navigation ->About), then 'Menu ->Register':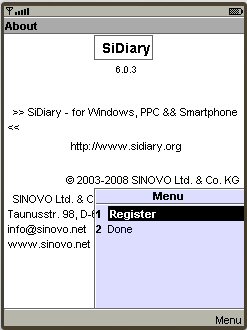 Select the option 'I have purchased an online subscription' and press again on 'Menu ->Register':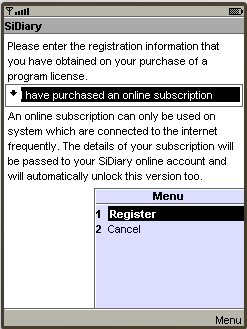 Enter your username and password (case-sensitive!) from SiDiary-Online and press on 'Menu ->Register' to finish the registration: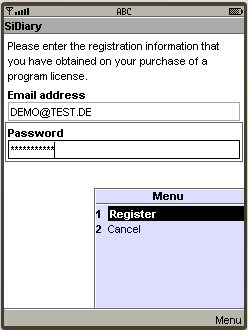 If you have any problems with it please don't hesitate to contact us at info@sinovo.net. We will be glad to help you!