SiDiary for blind people with diabetes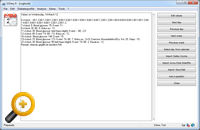 SINOVO has developed a special mode for SiDiary together with blind diabetics. This mode supports blind people with diabetes to work with SiDiary in combination with a screenreader (i.e. Cobra, Jaws etc.) with optimized SiDiary screens.
With these efforts we are completing our philosophy to support visually impaired people. The previous version of our diabetes log-book included a fully scalable zooming ratio for all screens so that those users can work much more convenient.
Now the user can activate a special "blinde-mode" which basically switches relevant screens into a special layout which is highly optimized for screenreaders like Virgo. All tracked parameters are composed with a compact layout and with the appropriate shortcuts you can walk over the days and edit the data.
Of course SiDiary is supporting the relevant meter devices for blind diabetics: SINOVO provides a driver for the GlucoTalk meter and can also read (via Accu-Chek Smart Pix) the Accu-Chek Compact Plus meter which can be configured for use with an acoustic mode. Our driver for the Deltec CoZmanager (Cozmo insulin pump) completes the package for this target group since the Cozmo is currently the only insulin pump which can be easliy used by blind diabetics.
To make it as easy as possible, blind users can use our USB-Stick version with SiDiary. This stick can be plugged into any desktop computer and does not need a setup or registration. Just plug it and start to track your data with SiDiary. Of course you can give your health-care-professional the stick since this media will also hold all data!
SiDiary will switch into the blind mode automatically on systems with an installed version of Virgo. If you are using another screenreader you can activate the special mode within the profile wizard on the initial startup of the software.
A must have for blind people with diabetes: The USB stick with SiDiary's blind mode.