Translate SiDiary into your language
You know it: It's much easier to use a software which has an interface in your own language.
For this reason SiDiary has an inbuilt tool to translate SiDiary in your language (or to enhance the given translation of your language).
If you are interested in translating the user interface of SiDiary into your local language or to extend an already partially existing translation, then please send us an email to support.sidiary@sinovo.de. We will be glad to help you to activate the integrated translation module.
After you have activated it, it will appear in the menu "Tools" as a new entry "Translation". The tool itself will look like this: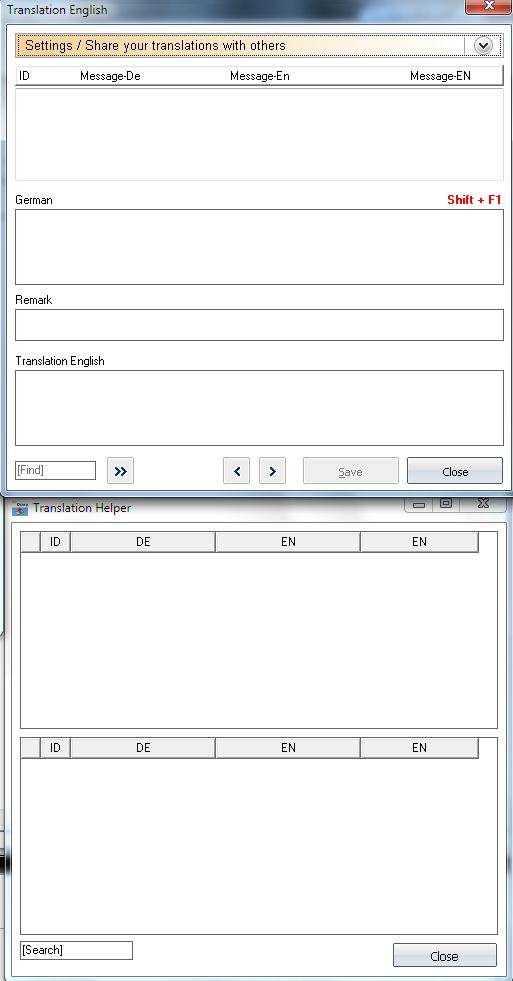 If you click on 'Settings' you can adjust what you want to do:

In which way the untranslated messages should appear
If you wish to share your translation with other SiDiary users
If you wish to add a new language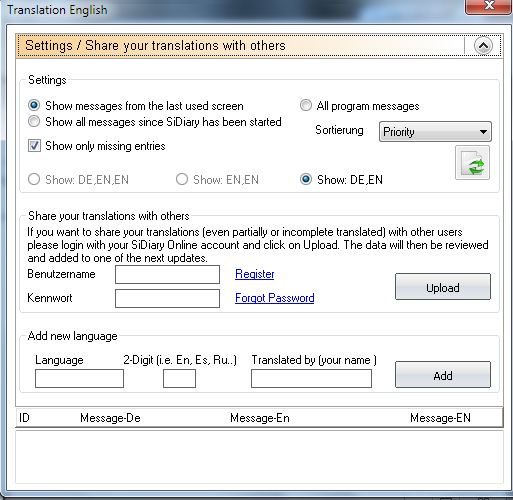 To add a new language - which is not already included in SiDiary - is pretty simple:
Enter the name of the language (in your language spelling)
Enter a two digits code (Like 'EN' for English or 'ES' for Spanish)
Enter your name (because we wish to thank all our translators on our homepage
After this you can close the settings dialogue and start with the translation.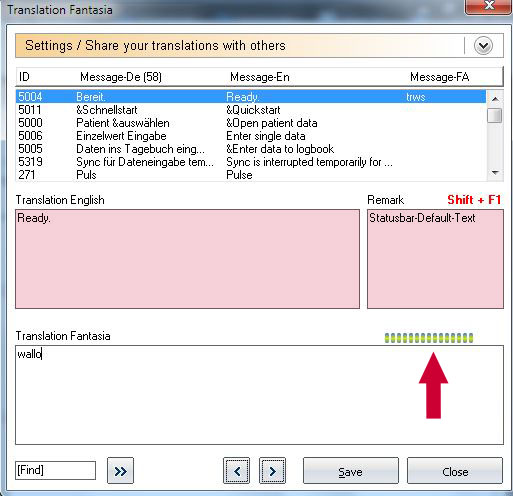 In this case we have added a new language and named it 'Fantasia'. We have chosen the appearance style 'EN/FA', so the English text appears in a separate window and right from it a short description, where to find these message in SiDiary. In the window below you can enter the translation
The arrow marks a small helper: with this kind of progress bar you can see how the translation would fit with the given space for a text. For example: a button has a given space, so you can't enter a text with unlimited length on it. The bar will show you how many space you can use for the translation. It should not be filled with 100%. You can check the result of your translation in the program of course, because all translations will appear in the program when you saved your work.
Sometimes phrases have special signs like '&' or '%1'. The '&' sign has the effect, that the following letter gets an underscore to indicate this menu point can be accessed by hitting this letter on a keyboard. So you can use this sign as well in your translation. The '%1' should not be changed or edited in any way, because this is a placeholder for a dynamic value.