SiDiary - Diabetes Management-Software
SiDiary makes the control of diabetes so much easier. Data capturing is a cinch and analysis will help to improve your therapy. We have included great new features with version 6 to help you getting started in the easiest way ever possible, even for computer rookies!
Modern diabetes management is more than a single piece of software. See here the whole SiDiary system: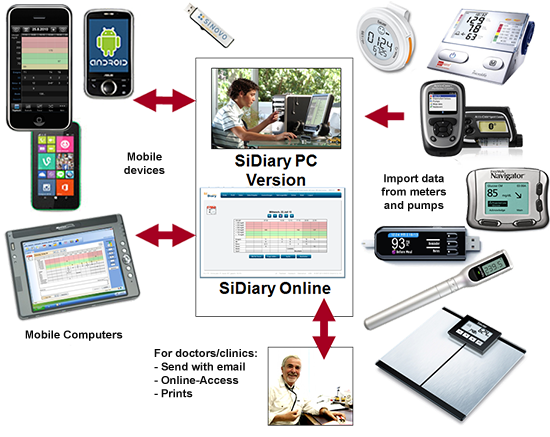 The key is a profile wizard that will ask a few diabetes related questions and that will configure the software with your answers so that it fits best to your personal needs and skills! If you are just a computer starter our software will provide slimmed menus. You can select when to start with more complex functionalities!
Suitable for all diabetes types (Type 1, 2, Lada, Pregnancy-/Gestational-diabetes etc.) with or without medication (Pills, Insulin) and for all therapy types (Basetherapy, CT, ICT, Pumper etc.)
Read data from almost all common blood glucose meters
Simple interface for data entry, use of different devices for entering data (Windows-PC, Android, iPhone, Windows Phone) with automated sync-mechanism and merging of all data.
Automated sending of SMS messages (Android) or email (iOS) to your doctor or a trusted person if you have tracked a critical blood glucose level.
Analysis, trends and graphical feedback for adjusting your diabetes therapy (available on all devices!)
Direct feedback for tracked values will increase your motiviation drastically
Search the nutrition database (USDA Rev.17) for carbs, fat, protein etc. even on your Smartphone
Full text search for all tracked records
Send your data to your doctor or health-care professional with SiDiary's email wizard (compressed, crypted and password-protected)
Several import-, export- and print functionalities for archiving your data on paper or as a log for your doctor (Demo)
Define your own datatype you wish to track in SiDiary like miles of your bike training or volume of your daily drinking
Define your own events you wish to mark all your entries with to use it as filter in the statistic
Please consider that although SiDiary will provide great help for your daily life with diabetes, it cannot replace consultations with health-care professionals!
It can replace your paper log but it cannot give medical advice!
Translate SiDiary into your language
With our inbuilt translation tool it's pretty simple to translate SiDiary into every language you want. Click at the picture to read more about it.

Click here to download the adware version of SiDiary 6 for free!