News archive
2018-09-17: New meters and basal rates import
In our current update there is again something exciting: not only that we have added two new devices (the blood pressure monitor Beurer BM55 and the BG monitor Ypsomed mylife Unio Neva), we have also started to import the basal rates programmed in the pump into our basal rate management when reading out insulin pumps.
First only for the Ypsomed mylife Omnipod, but other pumps will be added over time.
Details
2018-06-20: Dana Diabecare R & SiDiary
You may have already seen it: with the current update for SiDiary it is now possible to read out the pump "IME-DC Dana Diabecare R" with SiDiary via Bluetooth.
We have described how to connect the pump to Windows in a PDF file, which you can download here: <please click here>
This update also includes an import driver for the Accu-Chek Guide, so you can now read it without the Smart Pix software from Accu-Chek.
Also new is the import driver for the blood glucose meter MSP GlucoSmart Salsa and an import filter for the export files from the Ascensia Contour app.
Details
2018-06-01: Maintenance work on our servers
On Monday, June 4, SiDiary Online and our website will be down from 10:00 to 12:00 due to server maintenance. Thank you for your understanding.
Details
2018-05-24: SiDiary and Privacy Policy
As you have certainly heard in all media in the last few days, the European General Data Protection Regulation (EU-GDPR) will come into force on May 25th, 2018.
Since we have always given the highest priority to the special protection of the data entrusted to us anyway, we did not have to make any major changes. What we have had to change to comply with this regulation is our public data protection regulation and privacy policy.
To continue using "SiDiary Online" as before, your consent is required again at this point. Today, we will send an email to all users to indicate that.
All you need to do is log into your SiDiary Online account and agree to the new terms that will be displayed.
Thank you in advance for your understanding and cooperation.
Details
2018-05-16: Automatic recognition of meters
With this update SiDiary can now automatically detect even more devices and provide the import more quickly. These include for example the Beurer GL44, the Fora Diamond Mini USB and the Stada Glucoresult ToGo.
In addition, the devices Acon On Call Express, Testamed GlucoCheck Advance and Menarini GlucoMen areo 2K can now also be read out directly.
Details
2018-03-09: SiDiary and LibreView
Today we have good news for all users of the LibreLink app for smartphones. Since the scanned values of the Libre sensor can also be transferred to the web app "LibreView" and the data can also be exported as a CSV file, we have now also created a separate import filter for this file.
Therefore, reading out the Libre reader with the Libre software is no longer the only option to import this data into SiDiary.
Details
2018-01-05: SiDiary & Meters
With the current update to version 6.1.1319, new meters have been added in addition to minor modifications. The 'Ascensia Contour Next One', 'Ascensia Contour Next Link 2.4' and the 'eu-medical easypharm-GL' can now also be read out directly with SiDiary.
So now there are two solutions for the 'Contour Next Link 2.4': either just read out the blood glucose data directly from the meter, or - as before with the import filter 'Ascensia Contour Next Link 2.4 (F)' - import the export file from CareLink with the blood glucose data and the data from the Medtronic insulin pump.
Details
2017-11-28: SiDiary reads the Libre automatically!
For all those who, like us, have been annoyed that Abbott no longer allows us to read out the Libre reader directly, we have good news: with version 6.1.1318, SiDiary can now automatically take over the data from the Libre software.
How this works can be seen in this video: https://youtu.be/lugU53tzMgA
SiDiary detects a Libre-Reader if it is connected to the PC and starts the reading process through the Libre-Software. Afterwards it exports these data automatically into a file and reads it out, so that it's data can be transferred fully automatically into the logbook.
The easiest way to do this is to connect the Libre reader to the PC, then quit the automatically starting Libre software, start SiDiary and watch how SiDiary gets the data from it.
If you have any problems with this, please send an email to info@sinovo.net
Details
2017-11-14: World Diabetes Day 2017
Dear friends of SiDiary,
We would love to invite you all to coffee and cake for today's World Diabetes Day (which takes place every year on 14.11.), to celebrate the event and get to know each other.
Unfortunately, this would be a bit too much of a hassle, because we would have to rent a convention centre for this.
So we imagined something else and give you all a 5-Euro coupon for our online shop.
The coupon code is: WDD2017
It is valid until 21.11.2017
Subscription customers can use it, for example, to extend their licenses, because they do not lose any validity days, but simply renew the subscription for one year.
And may be the "coffee and cake" thing is also an idea for you and the people you like to be with ;-)
Best wishes,
Your SINOVO team
Details
2017-09-20: SiDiary and iOS11
Unfortunately, we have found out that under iOS11 the specially developed keyboard for entering digits can no longer handle decimal places.
Until we provide an update, you can continue working with the following workaround: please change the settings. Under' More ->Settings ->Keyboard' you can activate the standard keyboard. After that, you will no longer see the keyboard we created when you type, but the normal iOS keyboard.
Details
2017-08-01: SiDiary in a new data processing center
A few weeks ago, SiDiary Online moved to new servers in a new data processing center. In this context, some adjustments were necessary, but these are now for the most part completed. We would like to thank all our users for their patience and understanding towards us at this time.
Thanks to the new servers, we are better able to meet the increased requirements due to our steadily growing user numbers, since in addition to the higher basic performance and failure security, the new servers are also scalable. In times of higher utilization, they can better intercept these load peaks.
In addition, data transmission is now carried out with the latest SSL standards and encryption methods, and it is still cryptographically encrypted during transmission. Also on the server itself all data is stored coded. In the architecture we have also stored strictly seperately personal details on the one side and health data on the other side, so that data can not be assigned by unauthorized persons - even if they could crack it.
Passwords are also irreversibly encrypted according to the best practices (keyword 1,000-fold hash code including random salt). Our system is continuously monitored by security specialists and fully automated with the latest known attacks, so that safety gaps can be detected and closed at an early stage.
SiDiary is now among the few apps that have received the Diabetes App Seal from DiaDigital, because we meet their high security standards and requirements.
With SiDiary you can be sure, that we will spare no effort to ensure the security of your personal data. For this we stand with our good name!
Details
2017-07-27: SiDiary and Libre
Dear customers,
we are sorry, but the company Abbott has terminated the license agreement, which allowed us to read the data from the Libre device directly with an USB cable by using their specifications.
Please read more details on this page:
https://www.sidiary.org/freestylelibre.asp?l=en
Details
8.May 17: Move to the new data center
Last weekend the last servers were configured in the new data center and the transfer of all user accounts and all data is currently in progress. In order to ensure the consistency of the data, it is no longer possible for us to start the (emergency) system for the sync process in the old data center. After successful data transfer, we will start directly in the new data center. We apologize for the inconvenience and thank you for your understanding.
Details
2017-05-03: Sync with SiDiary Online interrupted
Unfortunately we encountered first problems with the internet connection of our online services starting Saturday noon and massive unavailability on Sunday. Our colleagues were able to bring back the online website yesterday and we expect to get back SiDiary Online later on this Monday. We really apologize for this inconvenience and ask for your patience.
Details
2017-03-21: Maintenance on our servers
On Friday, 03/24/2017, a maintenance job will be carried out on our servers between 06:00 am and 07:00 am GMT. The service 'SiDiary Online' and our website will not be available during this time. We apologize for any inconvenience.
Details
2017-02-20: SiDiary, CGMS & YouTube-Channel
Especially for users with a CGMS or Freestyle Libre the current version 6.1.1312 might be interesting. It provides new graphics type 'Glucose Profile' in the statistics section, which shows the median of the CGMS values as well as the standard deviation. With this new option it is not only possible to see the magnitude of the CGMS values over the time of the day, but also how strong these values are waving or how stable the glucose development is.
You can see it in the statistic section of the PC version, if you select the entry 'Glucose Profile' in the Graphic type.
By the way: do you already know our YouTube channel? You can find videos with hints and tutorials for the SiDiary Versions for PC and Smartphone at
https://www.youtube.com/user/SinovoDE
. More videos will be added of course, so it is definitely worth to subscribe to this channel.
Details
2016-11-18: Maintenance in SiDiary Online
On Friday, 25.11.2016, a maintenance job will be carried out on our Servers between 11:00 am and 12:00 am GMT. The service 'SiDiary Online' will not be available during this time. We apologize for any inconvenience.
Details
2016-10-10: Win10 and Smart Pix Reader
Good news for all Smart Pix users with Windows 10: since the last major update, Microsoft has changed the handling for MSD (Mass Storage Devices). Since the Smart Pix was also affected by that issue, it couldn't refresh it's status message when all data was received from a meter/pump.
In collaboration with Roche we were able to implement a workaround with update to SiDiary version 6.1.1309. Though the Smart Pix internal HTML app can not benefit from that (and their devices can still not be read with it), it is now possible again to read the data with SiDiary via the Smart Pix reader like before.
Details
2016-09-16: Maintenance on SiDiary Online
We're sorry, but because of a server maintenance 'SiDiary Online' is from 12:45 GMT until approximately 13:45 GMT unreachable. We apologize for any inconvenience
Details
2016-09-13: SiDiary recognizes meters automatically
Since the SiDiary version 6.1.1308 there is an additional help available: the fully automatic recognition of USB2COM meters when they are connected. These meters, for which a Windows system driver had to be installed, are automatically recognized when connected to the computer by SiDiary and offered to import from it. In the first time it needs to be manually selected from the list of readable devices, but from the second time SiDiary has then learned to which meter this virtual COM port belongs.
Details
2016-08-18: SiDiary and Avira
Lately we received some support requests, that when trying to read out meters, users receive error messages and what they can do about it.
We analyzed the problem and found out, that the tool 'Avira Antivirus', which is preferred by many users, is very often the reason. Avira Antivirus prevents, that a configuration file, which is strongly needed for proper operation ability, can be written by SiDiary (in a folder, which is created from and must be writable for SiDiary).
We already reported this to the producers of Avira, but so far there was no change made by Avira.
To solve this matter, there are two different ways:
Either you click on the 5. button from the left in the SiDiary toolbar (Download blood glucose meter/insulin pump) several times. With each new attempt there will be written more of the file, until it's completed after 3 or 4 attempts - then it will show no more error messages.
Or you can add the folder, where SiDiary stores this and other configuration and data files, to the exceptions of the antivirus program. We described the how to in an illustrated manual on this page:
https://www.sinovo.net/customerservice-faqv6-2631.asp?IDSprache=2

Details
2016-08-09: Libre and mysugr
With today's update the direct import from Abbott Freestyle Libre in SiDiary is rounded. With the original Libre software you can add your own notes, which are then transmitted to the reader. So you can add these short texts after a scanned reading. With the update to version 1.6.1306 SiDiary reads these self-defined notes and adds them to the logbook as remarks.
Another cool new feature is aimed at users who use on their smartphone or tablet the software 'mysugr'. With the current version of SiDiary now you can also import the export files, which you can send to yourself from mysugr as a CSV file via email.
Details
2016-05-19: SiDiary 6.1 available
SiDiary 6.1 is now available for all users as a free update!
With this new version we have not only introduced a new, brighter layout, but also a significant improvement of touch operations on tablet PCs with Windows operating system.
Another cool feature is the integration of CGMS- and Libre data. You can now select in the detail logbook, whether you like to see the blood glucose levels as a table like in the previous version or the curve with the CGMS- or Libre data for that day. This makes it much easier to complete the logbook and add useful details for your diabetes team.
(Of course, you can print your data also included with this new graph)
Another highlight for users of Freestyle Libre from Abbott: the data can be read with version 6.1 directly from the Libre reader into SiDiary, so that it is no longer necessary to export them first from the Libre software.
Details
2016-05-04: Disruption of online services
Unfortunately yesterday our online Services were disturbed from noon to late evening due to a HW issue. They are available entirely since then but still under special monitoring.
Details
2016-03-24: Problem with syncing finally solved
Dear users of SiDiary for Android,
after we have issued on Monday for the app itself another update to version 1.0.37, we can finally report today after several days of intense observation, that the problem with the synchronization has been solved.
We sincerely thank the beta testers, who have contributed with their reports significantly to solve this issue.
Kind regards,
Your SiDiary team
Details
2016-03-14: Problem with Android Update
Dear users of SiDiary for Android,
Unfortunately our update from last Friday leads some users to an error message when trying to connect to SiDiary Online. This happens both when syncing, and when you register.
Our developers are working hard on the analysis of this error, and as quickly as possible we will provide a correction update.
If you are affected by this problem, we ask you for your patience and apologize explicitly for this inconvenience. We will provide then immediately with news on this topic.
Your SiDiary team
Details
2016-02-24: Firewall Update
On Friday, March 04, 2016, our administrators will make a scheduled update on our firewall. Therefore our website and also 'SiDiary Online' can not be reached on that day in the time between 06:15 to 07:15 GMT. We apologize for this short break.
Details
2015-11-20: Problem with some DNS server
We're very sorry, but since noon yesterday there are problems with some DNS servers, so that a connection to our server with 'SiDiary Online' is not possible.
Our Admins have done everything to resolve this problem, but unfortunately it still takes some time before these changes are spreading to all DNS servers.
Unfortunately we have no impact on these servers and how fast they will be updated. But it should be during this day we guess.
Details
2015-11-05: Maintenance on SiDiary Online
On Saturday, 07.11. from 18:00 - 19:00 GMT SiDiary Online will be unavailable due to a server maintenance. Our Admins will install security updates then. Thank you for your understanding.
Details
2015-07-24: SiDiary and Windows 10
Next week is the day: Windows 10 will come. And of course SiDiary works fine on the new Windows. More can be found here:
please click here
-------
Details
2015-06-11: Maintenance on SiDiary Online
On Tuesday, 16.06. from 10:00 - 13:00 GMT SiDiary Online will be unavailable due to a server maintenance. Our Admins will install security updates then. Thank you for your understanding.
Details
2015-05-17: False positive Malware Alarm for SiDiary
Incorrect virus alarm for SiDiary6.exe
Currently the Antivirus tools Avast, Avira and Dr. Web recognizes a non-existent threat in SiDiary (False positive alarm). So we advise our users to add SiDiary to the exceptions of this tools until we habe clarified this issue with the manufacturer of these programs.
Here is a scan report from 60 different virus scanners:
Please click here
As you can see there the file is correctly classified as harmless from most antivirus software (Like Nicrosoft, Kaspersky, F-Secure and many others.
Here is a guide to the exceptions under Avast
Here the same for Avira
Details
2015-05-06: SiDiary available for Windows Phone!
After long weeks of intensive testing we have now also released an app for Windows Phone 8/8.1. Along with the available apps for Android and iOS we were able to add SiDiary to another operating system for modern smartphones. The Windows Phone app can also be synchronized too with an account at SiDiary Online, our cloud solution, and thus fits seamlessly into the overall system 'SiDiary'.
(Consisting of a PC version for reading meters and insulin pumps, an online version as a link and apps for smartphones/tablets to collect data anytime and anyplace.)
The Windows Phone app can be downloaded here in the Windows Phone App Store
Details
2014-12-19: Top 5 Self Tests for Diabetes
The US Center for Disease Control found that more than 9% of people in the US have diabetes (
https://www.cdc.gov/diabetes/data/statistics/statistics-report.html
).
By making appropriate lifestyle changes, we can greatly reduce this alarming statistic.
After reviewing and analyzing 77 different diabetes self-tests, we chose the best 5. We're sharing the content with you today in hopes that you'll share it with others to help lower their risk of diabetes:
Top Five Diabetes Self-Tests:
http://publichealthcorps.org/top-five-diabetes-self-tests/
Details
2014-11-18: SiDiary and Abbott Freestyle Libre
With the new update for SiDiary you can also import the export the files from the software of the Abbott Freestyle Libre into SiDiary!
We recommend that you import it as CGMS data type as an entry of all data as blood sugar value would be too many data for the table. The CGMS data type you can be disabled for the logbook by using the menu 'Diabetes Profile ->Data types'. However, you can add this CGMS data type in the statistics as an additional data source.
In addition, you can extract with the CGMS-AddIn from our download area individual values of this data type and add to the logbook as a blood sugar value.
Details
2014-07-11: Maintenance on our Server
On monday, 14.07. from 11:00 - 13:00 GMT SiDiary Online and our website will be unavailable due to a server maintenance. Thank you for your understanding.
Details
2014-04-11: New Android Version
The new version 1.0.26 of the Android app will be available throughout the day at Google Play. We have changed a lot again:
The way in which the bolus is to be taken from the bolus calculator can now be freely chosed in the Profile. Either separately in correction- plus mealbolus (eg 3+7) or as total (eg 10)
The event list will now be synchronized too when synchronizing the app with SiDiary Online. So events can be selected from a list, as in the PC version
The layout and operation of the Time Pickers in the single value entry was again revised/improved
On some devices the target range for blood sugar was difficult to change. This has been fixed
Plus some other minor bug fixes
Details
2014-04-09: Problems with our Server solved
Our Admin colleagues were able to stabilize the affected systems. They are available entirely since noon but still under special monitoring.
Details
2014-03-26: New Update for SiDiary
With the latest update for SiDiary to version 6.0.1286 new opportunities are added in addition to various bug fixes:
SiDiary imports now the new Withings file formats version 2, 3 and 4
Abbott Freestyle InsuLinx can now be read directly (without previous export)
We've added the devices Abbott Freestyle Precision Neo, Bayer Contour Next Link, Sanofi Aventis MyStar Extra, Wellion Calla Mini and Wellion Luna Duo Style
The program now also synchronizes the local food database from the PC to the online account. This makes user-added foods available there too
Details
2014-01-16: Problems with our Server solved
The technical problems, which we have had this morning (16. January) with our server, were solved: we were able to stabilize the system in the meantime and they currently are under increased observation.
Details
2013-12-12: Maintenance on SiDiary Online
On friday, 13.12. from 07:00 - 08:00 GMT SiDiary Online will be unavailable due to a server maintenance. The SINOVO website will not be affected by this.
Details
2013-10-26: Daylight saving time ends!
This weekend, specifically Sunday night at 3am, daylight saving time ends this year. This means that the watches are then placed one hour _back_ and on Sunday we all can sleep one hour longer.<be> Or we use the time for it to convert all the small watches in our household: in the microwave, the coffee machine, the digital camera and also in our blood glucose meter, insulin pumps, blood pressure monitor, etc.
We from SINOVO recommend: FIRST read your devices with SiDiary, THEN switch the device clock. Some devices - such as the Accu-Chek insulin pumps - provide no longer its data after a setting of the time to the software.
And of course we do not want you to lose your data ;-)
Details
2013-10-16: New Update 6.0.1277 available
We recommend all users of SiDiary the update to the latest version 6.0.1277. Under certain conditions the update-check of the previous version do not report automatically, although an update is available on the server. This has been fixed with this version now.
Details
2013-10-10: Fora BT meters with SiDiary Apps
SiDiary now allows to download data from the new Fora blood glucose meter series (Fora Comfort Pro, Fora Diamond Mini, Fora Diamond Prima and Fora Diamond Voice)
on your desktop computer
, but also by using the SiDiary
app for Android
and the
app for iPhone
. Both apps can connect to the bluetooth enabled blood glucose meters Diamond Mini and GD40b directly without cable and download your values to your logbook directly.
The cost-free updates for the mobile SiDiary apps will be pushed as usual by Google Play and iTunes. The PC version can also be updated with a cost-free package from within SiDiary with menu 'Tools->Update-Check'.
Here you'll find the
Fora website
.
Details
2013-05-22: Maintenance on SiDiary Online
On wednesday, 22.05. from 12:15 - 13:15 GMT SiDiary Online will be unavailable due to a server maintenance. The SINOVO website will not be affected by this.
Details
2013-03-07: SiDiary and HealthVault
With our new AddIn it is possible to transfer the data directly from SiDiary to Microsoft® HealthVault® and make data from your blood glucose meters (more than 150 meters integrated right now), insulin pumps etc. availabe in your personal healthcare records.
HealthVault® is a web-based platform from Microsoft to store and maintain health and fitness information. With applications like SiDiary HealthVault® supports users with their personal health management and in collaboration with physicians and other stakeholders in health care.
To the AddIn download site
Details
2012-12-03: Maintenance on SiDiary Online
On wednesday, 05.12. from 10:00 - 11:00 GMT SiDiary Online will be unavailable due to an update with a new program version. The SINOVO website will not be affected by this.
Details
2012-11-15: BGStar & 64Bit operating systems
Good news for all users with a BG meter from Sanofi-Aventis/Agamatrix: since today you can download exclusively in our download area a Windows system driver that supports the cables for these devices under 64bit operating systems. So far, such a driver was available for 32-bit systems only.
https://www.sidiary.org/download/driver/ZeroClickDriverLinus.zip
Details
2012-10-12: New Office in Malta (Europe)
Today we have good news for our mediterranean customers!
We have signed an agreement to have an office in Malta to bring support to all our maltese, greek and italian speaking customers.
SiDiary is a diabetes management developed by diabetics for diabetics! Well, Tonio Zammit, our new representative in Malta (Europe), is diabetic since more then 10 years. Tonio is based in St.Venera and he will assist you with any question that you might have in using SiDiary, before and after your purchase. Tonio will give you the first level support in your language so please feel free to ask him.
In the close future Tonio will provide missing translation packages for the SiDiary user interface since we believe that it is very important to use our application in your native language! Additionally we will follow up with an online website available in these languages too.
Tonio is a store keeper at Air Malta with a broad experience, including world-class customer support.
We are very glad to have him in our SINOVO team now!
Details
2012-10-02: SURVEY & SWEEPSTAKE!
We from SINOVO would like to know what you are thinking about diabetes software: what do you like well? What is not so good? What do you miss maybe even?
For this reason, we have launched a major survey and as a thank-you we will make a sweepstake to all participants who completed the survey with a couple of very attractive prizes. E.G. an iPad 3, a Samsung Galaxy S2 and an iPod Touch with Retina display.
We look forward to your active participation! Go to the survey and the conditions of participation with that link: https://www.sinovo.net/survey-2128.asp?IDSprache=2
Details
2012-09-02: AutoSync for Android
With the current version (1.0.12) of the Android app, you can now automate the synchronization with SiDiary optional. Either when you exit the app or at midnight each day. Of course, both in combination is possible too.
You can find this option under 'Setup -> Settings -> Synchronization.
Details
2012-07-09: SiDiary & Glooko Logbook
With the latest update now you can import data from the Glooko Logbook app for iPhone!
Glooko is a small device (with a cable) that you can connect to an iPhone and then read data from different blood glucose meters.
The Glooko Logbook App can be downloaded for free on iTunes, the cable can be ordered from Amazon US or Amazon UK.
Details
2012-06-05: Update for Android
From now on you can download at Google Play the latest version of our Android app!
Newly added in this version:
Landscape mode
SMS notification for exceeding or falling below the limit values ​​(optional, must be turned on first)
Statistics: Diagrams for weight and blood pressure
Support for devices with hardware keyboard
The SMS feature can be used for example if someone should be notified when the blood glucose is exceeding or falling below the limit values (e.g. the parents or the diabetes team)
https://play.google.com/store/apps/details?id=com.sidiary.app&hl=en
Details
2012-05-24: New Update for SiDiary
With the update we released today we have fixed some bugs and also added many new import possibilities in SiDiary
Export file from the current update of the iBGStar iPhone-App
Export file from Diasend (from the insulin pump Animas Vibe
Export file from the iPhone-App Diabetes+
Export file from the Omron-Health-Software and so from many Omron blood pressure meters and pedometers
Details
2012-04-05: Update for SiDiary Online
With today's update SiDary Online will not only get a new look, but also a new feature: under 'Data -> Import' you can now also enable the import of your data from the iBGStar app.
You get a personal e-mail address to which you can send the data from the app. If you then login to SiDiary Online the CSV-file sent from the app is available for importing and the data can be taken over by a simple mousclick.
Please do not forget to assign in the import settings at SiDiary Online the names of your insulin.
By the way: if you synchronize your PC version of SiDiary or the SiDiary App then the data will be transmitted to it too of course... p>. Details

2012-04-05: Maintenance on SiDiary Online
On thursday, 02.02. from 13:00 - 14:00 GMT SiDiary Online will be unavailable due to an update with a new program version. The SINOVO website will not be affected by this. Details

2012-03.23: Daylight saving time (DST)
You are using an Accu-Chek insulin pump? Then please make sure to import the data from your Accu-Chek pump, before you change the time settings on next sunday from standard time to DST. After changing the time you can't access to the history data via Smart Pix anymore. Details

2012-03-17: pendiq Insulinpen and SiDiary
The pendiq Insulinpen, which can store up to 195 insulin delieveries and is readable with USB cable into SiDiary is now available in their Onlineshop: https://www.pendiq-shop.com/
Details
2012-02-09: Website with a new layout
After extensive testing now we have released the new layout of our website officially.
We want to achieve with the fact that the discovery and also the shopping should be easier for you and you can find all the information you want quickly and easily.
Details
2012-01-26: Maintenance on our website
On thursday, 02.02. from 08:00 - 18:00 GMT the SINOVO website will be unavailable due to an extensive maintenance. SiDiary Online will not be affected by this.
Details
2012-01-24: SiDiary Online and PDF
From now on you can create and download your reports in SiDiary Online not only in Word or Excel format, but also in PDF. So it's easier to save them or send them by eMail to your doctor.
Details
2011-12-22: SiDiary and Omnipod
To download data directly from the PDM device of your Insulet Omnipod insulin pump into SiSiary you just need to run the most current update.
Furthermore in this update available: import drivers for the bloodglucose meters Accu-Chek Mobile II, aktivmed Glucocheck Comfort and aktivmed Glucocheck Excellent.
Details
2011-11-11: SiDiary in Google-Market
From now on you can download our Android-App directly in the Google-Market:
https://market.android.com/details?id=com.sidiary.app
In this way you will be informed automatically, if a new update is available for your device.
Details
2011-11-08: iPhone Update available
An update to version 1.0.8 is now available at iTunes. With it a problem is fixed, that may have caused in some cases to change the time slices to 00:00
Please download and install this update to your iOS device. Then you will be able to sync again with SiDiary Online.
The sync between 1.0.7 and SiDiary Online will still be disabled for security reasons.
Details
2011-11-07: iPhone Sync available soon
Due to a bug in the latest iPhone update, the sync between iPhone/iPad/iPod touch and SiDiary online could run into trouble with time slices.
The update that this error has been corrected is currently in testing by Apple and will available in the coming days in the AppStore. Immediately after this we will release the sync to our online server again. p>
We recommend that all users then should soon as possible - best before the first sync - download and install this update with the number 1.0.8. In addition, we have taken precautions to prevent problems with the existing data. p> Incidentally, you can also now enter data directly into SiDiary online, if you enter the adress http://diabetes.sinovo.net in your mobile Safari browser. Details

2011-11-03: iPhone Sync temporarily unavailable
Due to a bug in the latest iPhone app update, it came to problems during the sync between iPhone/iPad/iPod touch with SiDiary online. In the first sync after the update in some cases the timeslots of the tracked data was changed to 00:00.

An update of the iOS app, with which this problem has been eliminated, has already been submitted to iTunes. If it is available in iTines we will release the sync to the online server again. Details

2011-05-31: SiDiary for Android from 1.6
Fresh released: after an intensive test phase we can present just on time to the (meteorological) begin of summer our version 'SiDiary Android App'. The for the installation necessary file 'SiDiary.apk' can be found on your PC after an update or a fresh installation. More information on how to install to your Android device can be found in the program, menu 'File ->Install mobile devices' if you select 'Android Smartphone'. If you are holder of our license you can register this version with it too.
Details
2011-05-25: SiDiary in spanish language
We are proud to announce that SINOVO keeps growing!
We have reached an agreement to have a representative in Mexico to bring support to all our Spanish speaking customer all over the world, including Spain and Latin America countries.
Since we recognize that there is no substitute to use an application in the native language; now all of our Spanish speaking customers will experience SiDiary in Spanish!
You already know it, SiDiary is a diabetes log book developed by diabetics for diabetics! Well, Gerardo Perez-Ramirez, our new representative in Mexico, belongs to a diabetics family. Gerardo is based in Oaxaca and he will help you to solve any questions that you might have about any of our SiDiary versions, before and after your purchase. Gerardo will give you the first level support on Spanish so please feel free to ask him in Spanish. In fact our team, supported by Gerardo, has been translating to Spanish all the text in our Web page www.sinovo.es, manuals and the application itself to make sure that our Spanish speaking customers have everything they need in Spanish.
Gerardo is an Engineer with a broad experience , including world-class customer support. Besides he has the experience of running a pharmacy with special focus on patients with diabetes. We are sure you can depend on Gerardo to all the support you need.
Details
2011-05-17: SiDiary, BGStar & Verio Pro
With the current version of SiDiary you can download now the data directly from your 'Sanofi-Aventis BGStar' blood glucose meter. You can use it with an Agamatrix/Wellion Linus cable. Currently the necessary system driver is available for 32Bit operating systems only.
The other new imports are Lifescan OneTouch Verio Pro and the CSV file from the Withings WiFi BP iPhone App.
Details
2011-04-06: SiDiary and iBGStar App
From the iPhone into SiDiary: with the most recent update you can import now the data from the Sanofi Abentis iBGStar app. Just start the CSV Export in the app and then import it with our 'Sanofi Aventis iBGStar' import driver.
Details
2011-02-19: Nutrition-DB in iWebKit
New to the iWebKit of SiDiary Online (
https://diabetes.sinovo.net
) is the nutrition database as known from our PC version. It is now available in the iPhone Safari and on Android devices.
Details
2011-02-14: Enhanced SiDiary Online version!
SiDiary Online has a new logbook view!
It looks now the same way as the SiDiary PC version, which means the user defined datatypes are now also visible as separate rows.
Of course this applies also for the use on mobile platforms like cell phones or tablets with Android operating system.
Furthermore you can adjust more settings in the menu 'Extras' like the minimum column number or the width of the columns.
The statistics section also equates to the PC version now.
Particularly the use with mobile devices or the use with other operating systems than Windows could be enhanced with this step.
Details
2010-09-10: SiDiary on the iPhone
The long awaited version for iPhone/iPodTouch is ready and can be purchased
directly in the AppStore
.
Of course it looks like as usual for SiDiary and is as easily operated like all our versions. Don't wonder if the description in the AppStore and the Screenshots are in german: the Interface can be switched into english of course.
For more information please read this article
Details
2010-09-06: Visualize your Bloodglucose
If you want to see on the first sight what's going on with your bloodsugar then just download this free AddIn to enhance your statistic section. You will see your average BG of the chosen time range as well as the standard deviation in a visualized way. Also we have implemented a standard week, whch means all BG measurements of the chosen time range are projected on the seven weekdays.
Click here for a sample picture
<br style="Line-Height:5px;">
AddIn herunterladen
Details
2010-08-27: New print template for UDTs
With the most recent version of SiDiary now you are able to print your UDTs (=User defined Datatypes). In this picture you see a detail logbook, which uses the UDTs injection area and pain diary: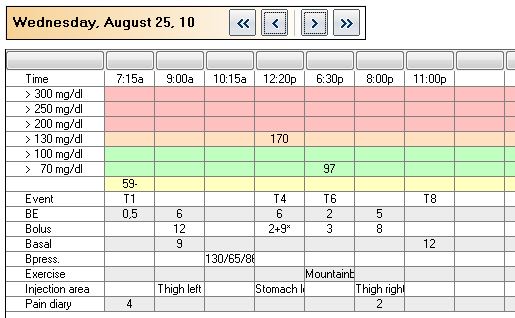 To print it please choose the print template 'Logbook-NovoStyle with UDT':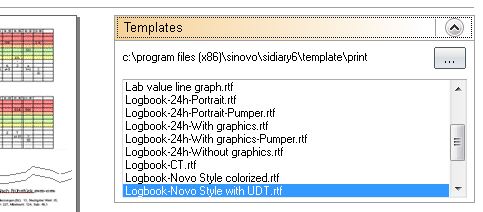 In your print it will appear in this way: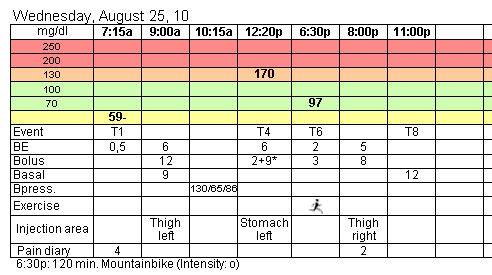 To use this new possibilty to print there are to ways:
make an update
then dowload the new template and unzip it to the folder ..\SINOVO\SiDiary6\Templates\Print\
...or uninstall your current version of SiDiary 6 und install it fresh with the most recent setup. Data and settings won't be lost during this action.
In the default this template contains 14 columns per day (enhanceable up to 35) and 5 UDTs as shown in the program (enhanceable up to 35 too).
Details
2010-08-18: New meter drivers in SiDiary
With the most recent update of SiDiary six new meters have been added.
The bloodsugar meters
IME-DC iDia,
Wellion Calla Light,
Wellion Calla Premium,
Wellion Calla Dialog
and the bloodpressure meters
Aponorm Professional,
Microlife BP A100 Plus
can now be downloaded with SiDiary 6.
Details
2010-04-28: Symbian and Palm
Even users of newer Palms or Symbian cell phones can now send their data easily from their mobile devices to SiDiary (PC and Online). Our thanks for that goes to the developers
Lars Hendrichs
(Palm) and
Daniel Hertrich
(Symbian).
More informations and screenshots of these versions can be found here:
Details
2010-03-26: SiDiary WebApp
Now you can use SiDiary on your iPhone or Android cell phone as a special designed WebApp!
You don't need to install a special tool or anything else. Just point your mobile browser to
https://diabetes.sinovo.net
and be amazed....
Here you can read more about it...
Details
2010-03-16: Maintenance on Thursday
The SINOVO website will be offline for some hours on Thursday, 19.03. for an extensive maintenance. We can't say how long exactly it will take but we expect to be online again later this day as usual.
Details
2010-02-25: New Agamatrix drivers
With our most current version of SiDiary you can now download your data from the Agamatrix meters Jazz, Jazz Wireless and Presto
Details
2010-02-23: SiDiary and Accu-Chek 360°
With our most recent version of SiDiary it is possible to import CSV files from Accu-Chek 360°. If you can't choose this export format, then probably you have not chosen it during the installation of 360°.
As we have been informed by Accu-Chek you could do the following steps in this case:
Export your 360° data in it's standard format
Uninstall 360°
Re-install 360° and choose the CSV-Option in the last step of it's installation process
Import your data from step one into 360°
After this you should be able to choose CSV as export format in order to have your 360° data also in SiDiary.
Details
2010-02-17: Saturday: Maintenance
Because of Server maintenance on Saturday a.m. (2010-02-20) it can be that all SINOVO servers are down for a short while. We apologize for that and will do our best to make it as short as possible.
Details
2010-02-05: Dexcom Seven Plus
With our most recent update its now possible to import data from the CGMS 'Dexcom Seven Plus' into SiDiary.
All you need to do is to import from your device into the Dexcom software and then export it. This export file can be imported in your SiDiary.
Details
2010-01-22: SiDiary is fingerfriendly
Just before our iPhone-App we have finished the fingerfriendly version for Pocket-PC. The best: you don't need a special capacitive touchscreen to use it. Even on older devices it works, if you press your finger a little bit more on it.
Details
2009-12-18: SiDiary and CareLink Pro
Now it's possible to get data directly from the Software 'CareLink Professional'. So user of the insulin pump 'Medtronic Paradigm' can get their data even without using the webapplication 'CareLink Personal'
Details
2009-12-10: 'Make your Stick'
Now you can install SiDiary easily on your own USB-Stick! All you need is a USB-Stick, our most recent version (6.0.1208 or above), an open internet connection and a license for the SiDiary buy-version or SiDiary V6-USB-Stick. (Because of technical issues this function is not available in our subscription-version).
To perform this action you just need to do some simple mouse clicks and even your already tracked data will be copied to your stick automatically.
To see how simple the handling is you can <a href="/customerservice-faqv6-1449.asp?IDSprache=2">read our FAQ

Of course you can also install SiDiary on the free partition of your Bayer Contour USB-Stick and use our AddIn to import the data as shown in 'WinGlucoFacts'...
Details
2009-12-01: SiDiary and Contour USB
With our most recent AddIn for the bloodglucosemeter 'Bayer Contour USB' it's possible now to get the data as shown in the software 'WinGlucofacts' into SiDiary 6.
You just need to download the AddIn here, unpack it to the SiDiary AddIn folder and start the file 'AddInSetup.exe' (located in the same folder) once.
Then after re-starting SiDiary you can activate the AddIn in the menu 'Extras ->AddIns' to get the data from WinGlucofacts into SiDiary.
Together with our new 'Make your stick'-Option (in the Tools-Menu) you even can install SiDiary directly to the Contour-USB-Stick (if you have our stick or the buy-license. Unfortunately 'Make your Stick' is not available in the subscription version)

Details
2009-11-28: New AddIn-SDK 1.5
The current update contains version 1.5 of our AddIn-SDK to give programmers more room to enhance SiDiary 6 with more functions
Details
2009-11-25: US Food-Database enhanced
In the most recent version of SiDiary the food-database (based on USDA Rev. 22) has now more than 13.000 Entries.[b][/b]
Details
2009-11-23: New Language available
With the most recent update SiDiary is now available in finnish language. Our thanks for that goes to Kari Hänninen from Vantaa, Finland. He has translated it for his son, who is a type 1 diabetic.
Details
2009-11-12: Save 35% with Bundle 'WDD 2009'
On World-Diabetesday 2009 SINOVO offers this exclusive bundle with our feature product USB-Stick and the pedometer 'Silva ex³ connect'. The advantage of this bundle is obvious:
<br style="line-height:5px;" /> In addition to our USB-Stick with an unlimited version of SiDiary 6 (including licenses for all mobile devices and SiDiary Online) you will receive the new 3D-Pedometer ex³ which tracks your daily exercises. These data can be imported/analyzed directly in SiDiary 6.
<br style="line-height:5px;" /> Of course you can import your bloodglucose-/bloodpressure meters and insulinpumps too (
list with all supported devices
). <p style="font-weight:bold">Compared with a single product purchase in our shop you can save € 39.- This offer is available from Nov/14 until Nov/20/2009. Please note, that we cannot ship to outside Europe!
Order now online
Details
2009-10-26: SiDiary Online and OpenID
SiDiary Online now provides a login with an excisting OpenID Account.
OpenID is a standardized "Single Sign-on"-System for websites and other webbased services like SiDiary Online. With your OpenID (a URL) you can login to SiDiary Online and all other webistes (which are supporting OpenID) without username and password! The actual login will be done on the website of your OpenID-Provider like claimid.com. The advantage is that you don't need to remember all of the passwords and logins of your web services but just the one of your OpenID-Provider. Some OpenID providers are also supporting a login with certificates which would give you an additional increase of security.
For using an OpenID login at SiDiary Online you simply need an OpenID identity, which is offered by many web services like Google, Yahoo, Facebook etc. After typing your OpenID on the SiDiary Online login website you will be redirected to your OpenID provider. After completing this provider login you will automatically redirected back to SiDiary Online that will also recognize your valid login.
You can get an OpenID account in example at Claimid.com but perhaps you already have an OpenID account without knowing that: Overview at openid.net
Details
2009-10-03: OneTouch Select & AddIn-SDK V1.4
Lifescan's OneTouch Select is now included with a new driver (available as a free update in the download section). This new update has also a new AddIn-ASK version 1.4 (including new methods for writing data to the patient log-book, accessing UDTs, events, status & progress bar and creating SysTray messages)
Details
2009-09-24: Autostart on USB-Stick
Now it's possible to run the program on our USB-Stick automatically if the stick is plugged in the USB port. Please read more in our FAQ by clicking on the left navigation on Customer Service ->FAQ
Details
2009-07-01: Version 6 released!
Today we have released new version 6.
After almost two years of development we are proud to present a new milestone in diabetes management software.
With SiDiary version 6, which especially offers a more user-friendly programme overview, we have completely updated SiDiary version 5.
Other functions have been optimized, such as the data import from blood glucose meters, insulin pumps or blood pressure meters. Data, which was manually entered and imported from well- established blood glucose meters, can be synchronized between all mobile devices and is available for interpretation and statistics.
With SiDiary version 6 you are able to process even more parameters than with version 5. Additional relevant data, which has been defined by the user according to his specific requirements, can also be tracked and analyzed. Furthermore you are able to print out reports even more easily than before with SiDiary version 6.
SiDiary 6 supports the co-operation between doctors/diabetes consultants and diabetics. This represents a further step towards telemonitoring: the patient is able to send his doctor the relevant data by e-mail or the patient can release the data directly for the doctor with the SiDiary online version. Physicians 'offices and hospitals benefit from a network-compatible version.
SiDiary 6 contains a Windows PC version, a Pocket PC version, a Smartphone/Windows Mobile version, a Java Mobile version and the access to the internet platform. Whenever you wish, you can transfer data from any mobile device to the online server
Details
2009-06-29 Maintenance work
Please note:
Currently we are switching our website to version 6 of our software. So our online shop is not available at this moment. We apologize for this. Please try again later.
Details
2009-06-24 Maintenance work
Because of maintenance work tomorrow, June 25th you might have limited access to SiDiary Online or in synchronization with your local SiDiary versions. We will try to minimize all interferences. Please accept our apologies for any inconvenience caused!
Details
2009-05-13 Update 'SiDiary-Online'
Because of update tasks on the server from May, 15th to May, 31st you might have limited access to SiDiary Online or in synchronization with your local SiDiary versions. We will try to minimize all interferences. Please accept our apologies for any inconvenience caused!
Details
2008-10-17 Update: Symbian, One Touch Vita, Animas pumps.
The current download package includes several updates like driver-Updates but also updates for the mobile SiDiary versions. Especially the Java mobile version was enhanced to support much better Symbian devices (like series 60). The free update has now also a driver for Lifescan's One Touch Vita meter. Additionally we have included a new driver for ezManager which allows you to read your Animas insulin pump history. Please visit the
download section
.
Details
2008-08-29 SiDiary 6 - The next generation
You can now register for the SiDiary V6 Beta-Program.
Click here
to getting started with the brandnew version.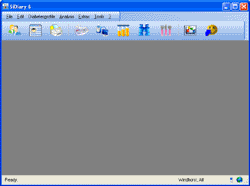 Details
2008-06-04 Final release of One Touch Ultra Mini/Easy driver
The driver is now available as a final release version. The update package can be downloaded from the
download section
and the driver licence is available in our
online shop
.
Details
2008-05-26 New update in download section
The update package in the download area includes now drivers for the new bluetooth meters from HMM (smartLABGenie and smartLABGlobal) but also updates of all mobile SiDiary versions which can communicate with the bluetooth meters too. Please see more details in the
HMM driver's description
. Additionally we have included a working driver beta for
Lifescan's One Touch UltraEasy meter
.
Details
2008-04-10 Update: Java+Mobile+Drivers+Online
The download section has a new update-package which can now be downloaded. This package has new drivers for
Ascensa Contour Link
and the bluetooth-enabled meter
smartLAB Genie
. The updated Java-, PPC.Net-, Smartphone- and PC-Version have some additional minor corrections.
SiDiary Online
server has also received some enhancements. This link will send you to the
download section
.
Details
2008-04-03 SiDiary and Symbian S60
Red Five Labs and SINOVO team-up to bring SiDiary to Nokia S60 mobile phones: Red Five Labs, a leading mobile-technology company, is providing a framework (Net60) which enables .NET applications to run on SYMBIAN mobile phones.
The partnership with Sinovo is a perfect example of the added value brought by Net60.
Red Five Labs
helps enrich the S60 platform with great apps like SiDiary which otherwise would only be available on Windows Mobile.
Please visit our news section for further announcements about availability of SiDiary-Net60.
Read complete
press release
.
Details
2008-02-22 Server maintenance SiDiary online
There will be a server maintenance on February, 28 2008 from 10:00 (MEZ) am until approximately 02:00 pm. The server will not be reachable or will have limited access at this time.
We apologize for any inconvenience.
All other SINOVO ressources (website, online-shop) are
not
affected!
Details
2008-02-21 Air-Sync your mobile gadget with SiDiary Online
With the new SiDiary online service you can now send your diabetes data directly over the air from your Windows Smartphone, Java enabled cellphone or your Pocket PC without any PC-connection!
Please read full story here.
Details
2008-01-29 SiDiary Online in Russian
SiDiary Online is now accessible with complete Russian GUI and Russian nutrition database.
SiDiary Online
.
Details
2007-12-20 Driver-Release for several meters
20.12.2007: Today SINOVO has released several new meter drivers which are now doanloadable and that can be purchased in our online-shop. The now connected meters are: Terumo FineTouch, Bionime Rightest GM 300, EPS Easy Plus, HMM smartLAB sprint and B|Braun Omnitest Plus. Especially Terumo created a blood glucose monitoring system that is easy to use, that is safe and clean in handling, and that makes blood sampling virtually painless.
Read more
.
Details
2007-11-01 Driver update: Freedom Lite / Smart Pix / Bionime
A new driver for Abbott's Freestyle Freedom Lite and a driver update for Accu-Chek Smart Pix are available in our
download-section
for free. The updated SiDiary driver for Smart-Pix is optimized for the recently released firmware update (V2.0) of the Smart Pix device but of course the driver will still read older Smart Pix communication boxes (V1.0 - 1.03).
Additionally you can download a beta-driver module for Bionime Rightest GM300 meter.
Details
2007-08-09 New SINOVO Events in Autumn 2007
SINOVO will present newest innovations in Digital Diabetes Management in Germany and Austria in Autumn 2007.
-13 October 2007 at the 25.Pump Event at Diabetes Village Althausen taking place from 10.30 at the "Festhalle" in Althausen.
(Weblink: Diabetes Village Althausen (German Website)

- From 29. November – 01.Dezember 2007 at the 35. Annual Meeting of the Austrian Diabetes Community taking place at the Congress und Messezentrum in Innsbruck/Tiro, Austrial


The 25. Pump-Meeting in Althausen will present the started project "Advice Device" in close collaboration with SINOVO. The Keynote of the Austrian Annual Meeting in Innsbruck is "Diabetes and heart". Details

2007-07-10 Networking Failure on 9/10 July
Because of a lightning strike on the network services of Deutsche Telekom some interferences of our servers are possible. Thank you for your understanding. Details

2007-07-04 SINOVO with Mobile Browsing
SINVO supports Mobile Browsing on www.sinovo.net. Modified for Mobile Displays, a user can download and directly install the Diabetes Management Software SiDiary. Moreover, a user is able to access the Online Shop and the License Key Management. Therefore he simply types www.sinovo.net in his Mobile Browser and will automatically enter the Micro-Site. If you want to visit the Micro-Site with a standard WAP browser, please use URL www.sinovo.net/wireless. Details

2007-06-26 Driver for Freestyle Lite released
The Driver for the new meter Freestyle Lite has been released today. Please download the new driver at our Download->Update Area.
Freestyle lite, follower of the Freestyle Mini will be available in retail shops in a short time.
The world smallest Blood sugar meter comes with an average measuring time of 5 seconds - a coding of control strips is not necessary.
More details of the Freestyle Lite driver please find here. Details

2007-06-19 SiDiary in Turkish
As from now SiDiary is available in a turkish language package. Because of many requests from users not only from the Turkey, SINOVO decided to offer SiDiary in a Turkish version and to make Diabetes Management a lot easier for these people. Also the Update-Package and the complete setup contains the new language pack. Details

2007-04-23 SiDiary opens sales office in Spain
SINOVO extends distribution network to spanish speaking countries. Link to the appropriate press release. Details

2007-03-17 Wellion Linus driver released
SINOVO has released a SiDiary driver for Wellion Linus blood glucose meter. You can download this new driver with the current update package. You'll need the original manufacturer USB-cable driver 'zero-click' too which you can find on the included CDROM or at this download page. There's one outstanding feature in this driver: SiDiary can detect automatically if you have connected your meter with the desktop computer and it will start the meter download immediately. Details

2007-02-26 Update for Ascensia Contour
The current update in our download section contains a new Ascensia driver. Of course the previously available driver worked fine even with the second generation model of Ascensia's Contour meter. The updated driver now allows also to import the event markes, i.e. pre meal value / post-meal value. -> Download. Details

2007-02-18 Meet us in Münster
Meet the SINOVO team February, 25th in Münster. SINOVO will be present on the "Diabetes 2007" fair at booth B5/C4 (Smiths Medical). Details

2007-01-16 Eventdays at Titus Pharmacy
SINOVO with its Diabetes Management Software is partner of the Event Days at Titusapotheke (Pharmacy) in Frankfurt.
The Evnet Days are taking place from 15th to 20th January 2007 and are including a free Blood Sugar Measurement and a lot of information about Diabetes.
SINOVO is informing about the need of a Diabetes Diary with its Diabetes Management Software SiDiary which can be acquired directly as SiDiary Suite and USB Stick at the Parmacy Titus Apotheke. Details

2007-01-01 Happy new year!
Happy new year 2007 to all visitors of this website. Details

2006-12-19 Polish translation update
The Polish language pack was updated by Piotr Benedykciuk. It's already included with the current update-package from the download-section. Details

2006-12-05 Flashback: World Diabetes Day
Within the framework of World Diabetes Day 2006, SINOVO presented 3 exclusive Promotion Bundles within the Blood Sugar Measuring Instruments Freestyle Mini™ from Abbott Diagnostic Care and the Blood Pressure meter Medilife PC2 by BOSO.
All Bundles included the fully SiDiary Suite and were equipped with appropriate communication cables.
According to the Slogan of the WDD "Diabetescare for Everyone?, exclusive and unique Promotion-Prices could be passed on to our customers.
The Bundle-Products taken up for the first time to our assortments were very well accepted by Diabetics. The very good acceptance of these "All inclusive - Packs" acknowledged us in the further development of future offerings. Details

2006-11-21 Auto-Recovery for USB-Stick
We have enhanced our SiDiary Plug&Play USB-Stick with a Recovery tool. This allows an additional backup & recovery of a whole stick image in addition to the already available data backups. Of course all current shipments include this new tool but you can use our update tool to add this functionality to your current SiDiary stick. Details

2006-11-06 SINOVO Promotion for WDD
SINOVO offers world diabetes day promotion packages with fantastic savings. Please find all details here: World Diabetes Day Promotion Details

2006-10-20 New Meter drivers available
The SiDiary update package does now contain further meter driver modules. You can now read data from the following meters: Sensolite Nova, Sensolite Nova Plus, Sensocard, Sensocard Plus and IME-DC. Further drivers will be available soon, you can find a complete meter driver list here. Details

2006-10-06 SINOVO at Diabetesvillage Althausen
SINOVO will be present in diabetes village Althausen (Germany) at October, 14th, it's the annual Althäuser pumpers meeting organized by Dr. Teupe. Details

2006-10-02 PPC.Net Version official release.
Today we have released a second Pocket PC Version of SiDiary. This Version was developed from scratch within Microsoft's .Net ("DotNet")-Framework and supports all features of the previous "embeddedVB" Version which is still available.The new version supports more devices especially with the Windows Mobile 5 operating system and provides a better window handling, which basically means that you can use it even with square size displays!
With this official release SINOVO completed a large development project which became neccessary with a new generation of mobile devices. Since it was available for several months first as a "WM5-preview-version" and later on as a Beta-release it has already proved it's road capability.
The new PPC.net version can be installed just like all other mobile SiDiary versions from SiDiary's program group by clicking on 'Install SiDIary on mobile device'. Details

2006-08-10 SiDiary for blind people with diabetes
SiDiary is now available with a special mode for blind or visually impaired people with diabetes who are working with screenreaders like Virgo or Jaws. SiDiary will start automatically with this blind mode if it will detect an installed version of Virgo (Jaws users can activate the blind mode manually). This highly optimized mode allows fast and secure navigation and tracking of all log book parameters. Additionally we have provided drivers for the interesting meters GlucoTalk and Accu-Chek Compact Plus (import via Smart Pix!) and of course we can import the Deltec Cozmo insulin pump data from the CoZmanager. Details

2006-08-01 Driver for One Touch Ultra 2 released!
The driver for Lifescan's new One Touch Ultra 2 blood glucose meter is released now. You can download the driver with the update package fro our download section and of course the licences are available in our online shop. Details

2006-05-18 Sinovo at the 41. Annual convention of DDG
SINOVO is attending on the 41. Annual convention of the German diabetes society, taking place from 24. - 27 May in Leipzig, presenting on a partner booth with Smith Medical Germany (www.smiths-web.de) at Leipzig (Germany) Hall 2, booth 26. Beside the official congress program, with speeches of scientists and physicians to special specialized topics from prevention, diagnostics and therapy of diabetes and the subsequent illnesses, SINOVO presents the newest version of SiDiary on the industrial exhibition and is discussing further improvements of SiDiary. More details about the 41. Annual convention of the German diabetes society can be called at http://www.ddg2006.de. Details

2006-05-15 Partnership and co-operation with the DBSV
After talks with the ´DBSV´ and the assigned Head of blind diabetics, Mrs. Diana Drossel, SINOVO is developing a version of SiDiary tailored for Blind a visually handicapped people, being introduced on the market for at the end of June 2006. More information about the DBSV can be called up here www.dbsv.org. Details

2006-05-03 Diabetes Shop and Shipment company Florian Müller
´Florian Müller´, a leading Shipment and dispatching company is selling SiDiary Products Link to Florian Müller: www.florian-mueller.de. Details

2006-04-26 Partnership with apetito
For the use of a meaningful add-on of special menues for diabetic, apetito, a leading European food manufacturer is offering the SiDiary USB Stick version as a Bundle with their diabetic menus. The bundle can be directly ordered over online shop www.diabetiker-menue.de. More details on apetito: www.apetito.com. Details

2006-04-10 SINOVO products in the Diabetes Dorf
Products of Sidiary are available at the ´Diabetes Dorf´ of Mr. Bernhard Teupe, a wellknown expert in diabetes. Now the CDROM Version of Sidiary and also the new introduced USB-Stick can be acquired at their Inhouse Shop. The 'Diabetes-Dorf Althausen' near Bad Mergentheim (Germany) was built in 1995 and is leaded under the line of of the well-known diabetologist Dr. med. Bernhard Teupe. Details

2006-03-25 SINOVO agreed upon partnership with the SDG
The 'Schweizer Diabetesgesellschaft' (Swiss Diabetes Authorithy) SDG, located in Baden near Zurich and SINOVO Ltd. & Co KG agreed upon a partnership with the goal of marketing SiDiary in the Swiss diabetes market. Various Sales actitivities of SiDiary are planned in Switzerland. More information to the SDG: www.diabetesgesellschaft.ch. Details

2006-03-02 Deltec Cozmo / Diabetes Trade fair 2006
With beginning of the trade fair 'Diabetes 2006' in Münster (Germany), starting at 3rd of March 2006, SINOVO is providing a driver for Deltec CoZmanager (Cozmo insulin pump) (http://www.cozmore.com/default.cfm/PID=1.2) by Smiths Medical (http://www.smiths-medical.com). Thus the possibility of the direct data transfer provided by SiDiary with analysis and diagnosis function of measuring data produced by the Cozmo insulin pump ® (from CoZmanager).
Diabetes 2006 in Münster (Germany): Together with Smiths Medical Germany, SINOVO is exhibitor at the Diabetes Trade fair 2006 in Münster, beginning by the 3rd of March 2006. Find us and our team at the "Münsterlandhalle" Booth D1 and win a brandnew SDA Smartphone including the latest edition of the SiDiary Software Suite. You can download the driver with our update package. Details

2006-01-19 New releases & drivers
Beside of a Xceed-driver update you can now download the new driver for three Boso blood pressure meter models. You'll find these drivers included with the update package in our download section. Details

2005-12-23 Merry X-Mas!
We wish all SiDiary users and all visitors of our website Merry christmas and a happy new year. Have always good bg levels, keep well and fit! Details

2005-11-10 World-Diabetes-Day - SiDiary's birthday gift!
On November 14th all individuals concerned with diabetes will celebrate the World Diabetes Day. The date was chosen as it is the birthday of Frederick Banting who, along with Charles Best, first conceived the idea which led to the discovery of insulin in 1922.
Many lifes of the today's 200 million people with diabetes spread all over the world are basically linked with this fundamental discovery so they can live pretty well with a therapy like ICT (intensive conventional therapy).
Since our mobile solution is helping many patients in tracking the important therapy parameters, SINOVO will provide a special birthday gift by reducing the licence fees for SiDiary for 30% on World Diabetes Day!
By using a mobile device like a Pocket PC or Smartphone the electronic log book is just in place where it always should be: Being independent from a desktop PC at home you can track the levels everywhere at any time. Details

2005-11-03 19. Diabetes Show in Essen, Germany
5th November is the date of SINOVO's first appearance on a diabetes show. It's the 19th diabetes convention in Essen, Germany. The show starts at 1pm with several interesting lectures. SINOVO is part of the industrial trade show. Details

2005-10-14 Version 5.1 released.
The new version 5.1 is now available in our download section. Users with a valid licence of version 5.0 can download this update for free in our download->update section! The new package now supports 5 more blood glucose meters, including Lifescan's One Touch Ultra Smart and the Medisense meters Optium and Optium Xceed. Additionally all Windows-based versions are enhanced with a full-text search for all tracked records. Details

2005-09-09 SiDiary-Reports: Power for your diabetes...
SiDiary reports are flexible, customizable and they can give your log an individual touch. Many users have build their own templates and some of them have released these files for all other SiDiary users. When we now received another template we were really impressed and have written a short story about "SiDiary's reports: Power for your diabetes..." Read the full story. Details

2005-08-29 Initial ad prices will elapse soon
Our special offer for the release of version 5 will elapse on 31. August. If you are currently using the 'Try-First-Buy-Later' version and thinking about a purchase, this date could make a difference. The ad prices will be available until end of August, including the 31. in our online-shop. Details

2005-08-23 OTUS meter driver beta
Now the update download package does include a beta version of the meter driver for Lifescan's One Touch Ultra Smart (OTUS) meter. The driver allows to config all meter settings from your desktop computer and of course to import the tracked data. Both the serial and the USB-cable are supported. We are looking forward to get your feedback! Details

2005-08-02 JDRF-Walk in Kopenhagen
August 21st will be the date of the first diabetes walk in Kopenhagen, Denmark. Our danish translator, Helmut Rielke, is involved in the organization of this event since he also maintains the danish websites of the JDRF. He promises a great party for all visitors and participants with lots of fun, including the cartoon network and ScoobyDoo. We're glad to announce this event to all visitors, especially to our danish users. Allthough the translation update for the danish language pack has to wait for these things, Helmut ist still part of the translator team and will provide an update as soon as possible. Details

2005-07-20 American Express accepted
Now we can process American Express payments with our online shop too (of course our shop is provided with a secure SSL-connection!) Details

2005-07-04 Visa-/Mastercard accepted
Now we can process Visacard and Mastercard payments with our online shop, of course our shop is provided with a secure SSL-connection! The acceptance of AmericanExpress credit cards is currently in progress. Details

2005-07-01 SiDiary 5.0 and SINOVO now at the pole
Now it has happened. After several months of preparation and beta testing SiDiary's new version 5.0 is available. With this release the announced switch into a real product was also accomplished. Now SINOVO Ltd. & Co. KG will provide support and all further improvements for the successful diabetes software, which was available in more than 18 languages and that was downloaded more than 100.000 times since the first official release in January 2004. SINOVO will improve the quality of the product by using direct communication with the customers. Forum, feedback forms, bugreports and wishlists are fundamental parts of our philosophy. We are looking forward to hear your feedback and to go together on new paths in diabetes self-control. Quality first - when we are talking about your health: SINOVO - we care for you... Details

2005-06-22 Release Ver. 5 - powered by SINOVO
On 1st of July the new version 5 will come to the web. Fantastic new features that have been tested by a wide range of users during several months of the beta test phase. The new version will be provided by SINOVO - read the full story... Details

2005-04-11 Beta5-package available
You can now download the new package for the beta 5, including cool new stuff for the windows version (like drivers to read bg levels from several meters, sending data by email, SiDiarySmartSync etc.), the corresponding version for PPC, the Smartphone RC1 and the beta1 for several Java enabled mobile cellphones. Details

2005-03-01 Russian translation completed
Dima Glazunov has finished his work on a Russian version of SiDiary. He has not only translated the complete application but also 3 print templates and a small nutrition database with Russian foods. You just need to download the current LanguagePack.zip file which contains all needed files! Thanks a lot to Dima - fantastic job! Details

2005-02-09 DiabetesPilot-Converter now in English
Andi Heitzer has enhanced his GlucoPilot-Converter tool with some new functionalities and most important it's now also available in English. Please visit the support-section and click on SiDiary & Palm. Details

2005-01-31 SiDiary in bavarian and swabian translation
There are 2 more language packs available. Suitable to the carnival, you can now use SiDiary in bavarian or swabian - of course you should have some German skills for that. ;-) Thanks to Andi Heitzer, who is also providing the DiabetesPilot-converter tool. Details

2005-01-21 200.000 hits...
It's unbelievable: SiDiary.org is close to session number 200.000. If you will recognize this historical counter number, it would be great, if you could email a screenshot of it. :-) Details

2005-01-18 Read data from blood glucose meters
Now you can download the first beta drivers for several blood glucose meters. You can find the download link in the hidden internal area for the registered forum members. Details

2005-01-17 Language file update
The greek language file is now updated (thanks Wasilis) and Daniel Micallef has finished his work on the Maltese language file! Thanks a lot! :-) Details

2005-01-17 Short note about A1C
Last Friday I got my A1C-result: 5,5% (the upper end of my laboratory's reference region is 6,1%). So I have improved my parameters once again - thanks to SiDiary and my plasma-calibrated Freestyle Flash!


Details

2005-01-11 Java-Version is in progress...
For all users who have asked for further versions of SiDiary I can now provide good news: A party of 4 developers is now building a Java version! I cannot say, which cellphones will be addressed by this version but a first alpha test release will be most likely available this month! I hope that many people can help us to find the cellphones which are suitable for this version... Details

2004-12-29 Service pack 1 now available
An update package with some minor adjustments and enhancements is now available in the download section. As mentioned in my last email - I will not send an update info email for these minor updates but the update-check should have notified you! Again: A happy new year 2005! Details

2004-12-23 Merry christmas!
This year is close to the end, time for a short summary: This first year with SiDiary was exciting, thrilling and it was a year with unbelievable success for SiDiary. When I started on January 2004, I never thought that it could end in such a project. Every single diabetic which has improved his condition by using SiDiary is in fact a great success. But this positive feedback in my inbox is incredible. I wish every single user out in the world and all visitors of this site a merry christmas and a great year 2005 - particularly a healthy one!


Details

2004-12-15 Language update
Long time no hear. Sorry but I couldn't spend much time for SiDiary in the last few weeks and I also catched a flue. But now there's at least a language update: Spanish is now completed to V4.0 and also Catalan is released, also Russian has good progress. I will upload a minor update in a few days, let's say 'ServicePack1' with some corrections. Details

2004-11-16 Turkish translation started
Orhan Koese has recently joined the translator team and already started to translate SiDiary into turkish language. Watch out for news... :) Details

2004-11-12 Nutrition data update coming soon...
Larry Hum has built a new nutrition data package for the English users. He has converted the new release 17 from USDA and even included the producer data. Great job, thanks a lot! I will put it for download on the server ASAP probably this weekend, check for updates... ;) Details

2004-11-09 English nutrition data
I forgot to tell you how to get started with the English nutrition database and how to get it work on your PPC, but it's easy at all: Just copy the english data-files from the zip-archive to the nutrition folder on your desktop computer. Open the nutrition screen on your desktop, select the records you want to take away with your PPC. These records will be synced to your mobile device and the burger-button will there become visible too! Details

2004-11-08 4.0 is released!
The brandnew version 4.0 is now available at the download section. With this major update you will get many great new features like a nutrition database and the diagnosis functionality which will help you with your fight for a well-driven diabetes. And of course you have seen that there are some changes at the web too. Please check out the change log with all fantastic imrpovements! Details

2004-11-05 Language news
Unfortunately the contact to the russian translator, Kostya, was lost but there is now another helping hand, Alex Komarov has joined the translator team and is currently working on a russian translation. There will be further translations coming in the near future: Alain Goldberg is working on a hebrew version and Jari Kärkkäinen has offered his help for building a finnish version. Details

2004-10-26 Beta 4.0 is working fine and is close to release
The 4.0 beta version is currently used by some users and the version is in fact pretty stable so that I want to invite further users to check out this brandnew version: You only have to register at the forum and can get the download link for the beta version in the internal SiDiary section! Discussions about this beta release are also going on at the board. Thanks a lot to all testers who have supported me with informations and test efforts! :-) Details

2004-10-13 Insulin & pill types and nutrition lists
I would like to ask you for help: SiDiary comes fully translated in your preferred language but the lists of insulins and pills are still missing in your language. :( This isn't really a problem because you can add any type of insulin or pill with just a few clicks. But if someone could provide a list of insulin & pill types (long acting and rapid acting insulins) for his language or country I would greatly appreciate emails with those lists :-) Additionally the new version of SiDiary will contain a lookup for nutritions so that you can search for your carbs, fat etc. But right now I've got only free databases for Germany and the USDA database. So if anyone can provide informations about free nutrition databases for other countries...please email me ;-) Details

2004-10-09 Server down...
The web server was down for some hours today. My provider had to work on his servers this weekend but from tomorrow, Sunday, everything should work fine again - the server should even perform better! :-) Details

2004-10-07 Something's going on...
I'm currently building a major update to version 4.0.x which will have really great new features! Unfortunately I cannot say when it will be released exactly so it's always a good idea to subscribe for the update-info and if you're interested in details for this brandnew version, you should also register for the forum and look at the member-only area for all details which have been finished so far! :-) Details

2004-09-15 Language update for Greek
There's another new update in the download section. One new enhancement: Greek translation is included! Thanks a lot to Wasilis Mandratzis! Details

2004-09-02 OT: My daughter arrived... :-)
This night at 02:46 o'clock (MEZ) my daughter arrived. Please excuse any delay of my answers to your requests! Details

2004-08-20 SiDiary supported by diabetes organizations
The Mexican Diabetes Federation and the Maltese Diabetes Association decided to support SiDiary by including informations on their portal sites. Thanks a lot for this great help! :-) Details

2004-08-19 Language update for Thai
There's another new update in the download section. One new enhancement: Thai translation is included! Thanks a lot to Dr. Khrin Emasiri! Details

2004-08-17 Minor update at the download section
I've uploaded a minor update which fixes a problem with the default time-slices. They weren't saved properly on the PPC version - so this update is probably interesting for the new users. Therefor I didn't send out an update-info email. Please view the change-log for all changes. Details

2004-08-09 Nutrition-Database
The most recent PPC-Version shows a BE-Button. When you click on it, it displays a message that you have to download the nutrition data from the web. Since I haven't completed this functionality, you can't find the nutrition data in the download section so far... Details

2004-08-04 Language news...
There are great news regarding translations for SiDiary: Josep from Spain has joined the translator team to help with the spanish translation and even a catalanian version. Wassilis Mandratzis is currently working on a greek version and the 15 years aged Daniel from Malta want to help the Maltese diabetics. Details

2004-07-29 Update at the download section!
Now you can get the brand new update to version 3.5.185 with the performance update for the PPC version some guys were waiting for. ;-) Please find all changes at the change log. The performance update must be accomplished for both versions, either the PPC and the windows version! Read more detailed about it at the FAQ page. Details

2004-07-23 The next update is coming soon
The next update is probably coming at the end of next week: Faster application start and a better overall performance for saving values and creating statistics (see also forum thread). Details

2004-06-24 Another new translation started...
Good news for the russian users: Konstantin (Kostya) Zakharov from Moscow has started with the russian translation of SiDiary. It was a little bit tricky to make the VB-application display unicode characters like cyrillic but now this works fine. Anyone else for i.e. Asian translations? ;-) Details

2004-06-21 French translation again up to 100%
The missing terms in the french translation are now completed. The language-file is already included with the downloadables. Thanks a lot to Ulrike Schleese! Details

2004-06-17 New update to version 3.1.175
The new update can now be downloaded from the appropriate section. It includes the 3 new translations for Italian, Swedish and Portuguese. Beside of this there are just 2 minor functional adjustments. Details

2004-05-24 Italian translation completed
Claudio Biotti has completed the Italian translation of the GUI. So we can build a big language-update with Potuguese, Italian and Swedish. Unfortunately this release has to wait for 2-3 weeks because I haven't got much time these days for building a new update... :-| Details

2004-05-19 Portuguese version is ready
Actually I would announce that Rodrigo Thomaz from Niterói, Brasil has joined the translator team but because of his incredible performance on translating the GUI he was ready before I could tell you about that he will start with... Details

2004-05-14 Hotfix 3.0.173
I've put a hotfix (Version 3.0.173) to the download section. In this release a hard bug in the PPC-version is fixed, especially for new users: Under certain circumstances the application crashed without any message and it couldn't be started again - even a re-install could not solve this problem. If you have encountered those trouble, please soft reset your PPC and install the current release 173! Please find more details at the FAQ page! For the other users who are already using SiDiary without any problems there are only few changes which you can find in the change log. Details

2004-05-05 Italian translation
Bad news, good news regarding the italian translation: Markus Schwind had to resign his position as Italian translator. But fortunately Claudio Biotti from Milano is joining us to complete the translation. Thanks a lot to Markus for the already done work and to Claudio for his future efforts! Details

2004-04-30 Version 3.0 released
The new version is waiting for you in the download section. From the version number you can see that it's a major update which contains i.e. the pumper functionalities. Additionally all statistic graphs can be printed with your logs (it works just with MsWinword!) an many more... Have fun and I hope that the server has enough horsepower... ;-) Thanks a lot to all pumper beta-testers, which helped to build a stable version! Details

2004-04-22 Swedish translation & new release will come soon
Great news for the swedish visitors and SiDiary users: Pasi Grönberg wants to help building a swedish SiDiary version. Thanks in advance! (It will take some time but the progress will be reported at the language support section!). Additionally the new version can be released very soon, since the pumper beta test is pretty close to the end and the version was already sent to the translators. It will not only include the new pumper functionalites but also great new enhancements for all users! :-)) Details

2004-04-14 English user's manual
With great help from Tom Foster, UK, the English manual is now in a much better condition! ;-) He has reviewed and corrected all of my disastrous translations so it should be now much more convinient to read it. Thanks a lot, Tom! Details

2004-04-10 Merry easter...
...to all visitors! :-) Details

2004-04-02 Palm & SiDiary
A short note for Palm users: Andi Heitzer has built a converter tool to use his diabetes data tracked with GlucoPilot on a Palm device with SiDiary on his windows desktop computer. I will add more detailed information on the web very soon but if you're interested in this converter (and reading German pages isn't a problem for you), you can read more infos on Andi's Homepage (point to diabetes in the navigation frame). Andi is providing this tool for free also! Details

2004-03-28 New release in download section & new board
A new version is waiting for you in the download section. Main feature is the included french translation, some of you were waiting for. Thanks a lot to Ulrike Schleese! Additionally there are a few smaller adjustments for the statistics. Read details here. The beta-test for diabetics with pumps has started this weekend so we can expect a main update in the next two or three weeks! :-)) One new main section for this web was opened now: The board! With kind help from diabetesinfo.de we have now a board for discussions about SiDiary! I hope this helps for discussions, questions etc. And for sure I will be there also! ;-) Details

2004-03-24 Want to become a beta tester for pumpers
I've finished a beta version with the new functionalties for diabetics with pumps. If you want to help me with testing this functionalities, just send me an email. I have to use "beta testers" for this functionality because I will not use it...because I've got no pump ;-) If there will be more than 10 interested "pumpers" for this beta test, the selection will be done by "first-come-first-serve" :-) I would like to start the beta test this weekend... Details

2004-03-19 The 10.000th visitor
Probably today there will be the 10.000th visitor of this site. With a real/official start date on 01/19/2004 that isn't bad for the beginning?! ;-) If you are the 10.000th visitor, could you please make a screenshot with the web counter and send it to me by email?! :-) Details

2004-03-15 Next release (V2.7.103)
The new release is waiting in the download section for danish and czech users! The danish translators Michael Rasmussen and Helmut Rielke from diakids.dk have finished the whole work on just one weekend. Additionally Patrik Krizan has completed the czech version last week. I didn't send an update-warning info because there are no new functionalities in this version beside of the two new languages for the GUI. Details

2004-03-13 Danish is coming...
Good news for all danes: Michael Rasmussen & Helmut Rielke have started with the danish translation on this weekend! :-) Details

2004-03-08 New release in download section
Now you can find the new release in the download section. The most important thing is the spanish translation which is now included! There are several corrections and optimizations and also the pie-chart code is brandnew (all details are included within the downloadable zip-files). Additionally I had worked on the web as you can see from the previous news-item and on the right navigation bar. Good luck and have fun with the new version, Alf. Details

2004-03-06 Broken Web...
Sorry to all visitors from yesterday! The redirect did not work properly so that a broken page was displayed to all visitors which have started on www.sidiary.org. Now it should look much better... Details

2004-03-01 Less news...but soon...
Today there's just less to tell from SiDiary's last weekend: I could fix a few cosmetic things which are not that important that they should be put on the web as a new release. I've worked on several language issues and even the improvements for the pump users are finished in my head so I can soon start the dev... Another item: Under specific circumstances it could be possible that the pie-chart shows incorrect sectors. It is drawn with a free code-snippet, which was taken from a magazine. I've encountered these things 2 weeks ago and from time to time I get emails from you also finding this bug. It took some time to analyze what is going on in this code and it's clear now but it needs some time for correction - BUT this bug is already known and I'm working on it - If you encounter this phenomenon: You can always trust the displayed percentage values for low, target, high and x-high values! Details

2004-02-25 Small Fix on statistic graphs e.g. am/pm-handling
Fix 2.5.92 is waiting for you in the download section. There was a 'cosmetic' bug with the line graph, if you've saved bg level values with times 12:XXp. In this special case the graph had shown some suspicious intersections. Additionally you can find a recently started hardware compatibility list since I was asked from time to time on which devices SiDiary is running properly. I hope that you could help me with this question by a short confirmation of your used hardware?! Thanks a lot! Details

2004-02-23 Small hotfix V2.5.91 & Dutch translation up ...
Affected: PPC with setting Type2 only: The labels for Basal/bolus were mixed up in the BG-Overview sheet and Henk has completed the dutch translation :-) Details

2004-02-22 A lot of cool new things...
Now you can download the next bigger release (V2.5.90) from the download-section. The downloadable zip-files contain a complete update-list, here are some highlights: Support for type/type2 (insulin and pills), up to 4 different insulins or pills, add new insulins and pills directly in program, OTUS csv-import, several improvements of statistics, resizable window for graphs, 2 further translations (slovak & croatian) etc. Dutch translation isn't 100% but Henk is already working on that! Details

2004-02-12 PPC-Hotfix V2.2.67
I've fixed a bad bug with the referred version (PPC only!): If you've decided to let SiDiary update the column header time this update was just visible on the screen but not saved. Changed times in the column header were only be saved, if they were edited manually. Thanks to Christian Mück for reporting this bug! Sorry for that, I've lost several time values too. :-( Win32bit version was not concerned! Details

2004-02-09 Version 2.2.66 with new statistics and graphs...
The new PC and PPC versions can now be downloaded. You'll get new statistic coeffecients, one new graphical view and a Diabass interface. Additionally the improved sync functionality is included which was announced for yesterday. Great news for the durch users, translation is completed! Thanks a lot to Henk Heijligers! :-) Details

2004-02-06 Advance notice: Synchronization & Diabass
I've worked on several improvements on data sync issues between Win32- and WinCE-application (performance, avoidance of CE-restart etc.). If these changes will come through test efforts of this weekend I will release it likely on Monday. Also the Diabass interface is completed and has been given to Oliver Ebert for approval. :-) Details

2004-02-05 New version 2.1.56 released.
You can now get version 2.1.56 from the download section with several improvements and bugfixes for the U.S. users. (Bolus calculation, carb ratios, am/pm handling etc.) . Please go to coming soon section to get a complete list with all modifications. Details

2004-01-26 Version2.0 available!
Now you can download last weekend's results... Some bigger issues on the application's architecture are invisble for you but they are still there.Version 2.0 is the result including new features like (date picker in PPC, capability to track unlimited values per day, csv import interface etc.). For more details please visit the 'coming soon...' section. Details

2004-01-23 SiDiary runs on Pocket PC 2003 mobile edition!
After implementing a work around for the Pocket PC 2003 platform, a user had now confirmed that SiDiary is working stable on that platform. In this case he was even using the mobile edition so we can say SiDiary is now "MDA"-proofed. :-) Details

2004-01-20 Translation of manual completed
Get your English manual today! Translation is about 99% completed! :-) It would be great, if some of the U.S. users can tell me about if you could get the sense out of it...sorry, I'm not a native speaker... Great new info for SiDiary: Together with Oliver Ebert, we will implement an interface for sending data to DiaBass!!! Details

2004-01-20 Yesterday's date format issues now solved!
The weird problems about date format are solved: First one was just a display problem, second one was a hard bug that came up when a user have entered data "backwards". I.e. if you've started on 01/19/2004 and then stepped back to the previous days the data of 11. day was overwritten by the data of 1.day. This was a problem of the used ini-class, but it's now fixed. Both problems were just PPC issues. Windows version wasn't concerned by them! (Since on 32bit windows ini-handling is part of the system api ;-) ). Details

2004-01-19 Problems with date format?
Two users have contacted me with some weird date format problems. On one system the shown date in the bg-grid screen was 14.14.2003, on another system the data was saved for the wrong day. I will try to fix this but I have to look if I can find anything wrong with the code by "code-reading" since I cannot reproduce these things on neither my device nor the software emulator. I hope that I can provide a bugfix very soon! Details

2004-01-18 Am/Pm-Time is now supported
If you've installed the current version with your language file, you can now enter all time entries as am/pm values. Translation of user manual is in progress: ~40% are finished. Details

2004-01-14 Bug fixed for statistic without a single value
An abnormal program termination occurred if you've clicked on the statistics tab, if you haven't entered a single bg value before (it was a division by zero error when calculating the average blood glucose value). Since in my database were bg values from about several weeks, when I've finished the first version of the statistics, I had no chance to find this error before... Sorry for that and thanks for the information about this bug! Details

2004-01-14 Bug fixed in Win32 client
Sorry: Todays executable for windows 32bit versions had included a link to MsADO. So if you haven't installed these database package on your system, SiDiary won't run. Didn't recognize any problems? ->There was ADO installed :) (on newer versions like Win2000, XP it's already included!). If it didn't run, please donwload the current version, I've re-compiled it without that link. Details

2004-01-14 First import interface finished
I've included the first import interface (GlucoControl-database). The next one will be csv-import. You can find a step-by-step description for importing GlucoControl data on the FAQ page. Details

2004-01-13 Export finished
The function for exporting data is completed. You now can export the selected data from the statistics tab. Supported formats: Excel, Text/Csv, HTML, RTF. Two new Export-templates are included within the Win32-client zip archive from the download-section. As you can see from the demo excel-export you can now create just every diagramm/graf you want: Just modify your template... :-)) Details

2004-01-13 New revision of German documentation
Since the documentation is actually not translated this is a German issue only... There was a "bug" in the documentation, which is now fixed. I hope that we will get an englisch documentation soon! Details

2004-01-12 New statistic graph
An additional statistic graph shows an x/y-graph (dot-graph) with all selected BG values. Details

2004-01-08 Synchronization of WinCe and Win32
Because ActiveSync is not able to merge two versions of an identical file (in this case the SiDiary data files from the PPC and desktop PC) I've implemented my own synchronisation into the Win32-client. The Ce- and Win32-application now have their own data folder, so ActiveSync can't get in trouble with them. The Win32 app automatically detects changes as a result of data typing on the PPC and it then merges all data. Details

2004-01-08 Suggestion of bolus insulin
The WinCe version now shows you the amount of bolus insulin after entering the blood glucose value and your carb intake. It calculates your insulin dose for your meal and adds the correction dose. But keep in mind: It's just a suggestion and you should ask yourself if this suggestion is ok! Details

2004-01-06 Implementation of language files finished
Based on a language file seperated from the executables, the current versions are now translated. Any language is possible, just the text file has to be translated. Just download the setup file and the appropriate language file. Details

2004-01-05 Now we're on the air!
Thanks to ShE. Now we have this web site as SiDiary's home. But it need to be posted on boards, search engines and web grawlers... Details

2004-01-03 Win32 version is now able to print your data
Spend some time for the printing function of the desktop version. Details

2004-01-02 Unit of blood glucose implemented.
You can now select from mg/dl or mmol/l Details

2003-12-30 Web site is finished.
Completed these web sites. Details

2003-12-29 Documentation finished
I've completed the german documentation...sorry translation has to wait... Details

2003-12-27 The Win32 app is finished
During my day at the office I have typed my values into the PDA waiting on his docking station - which was not user friendly while my PC was beside of it... So I decided to "downsize" the eVB application to VB5. Details

2003-12-15 Optimized calculation of A1C
For the optimized calculation you have to specify a Bolusinsulin with an effect period, which means after how many hours the insulin does have no more lowering effect on your blood glucose. If the algorithm now finds a higher BG value which was corrected with an injection of bolus insulin, it will interpolate for the insulin's effect duration down to the BG value which was monitored next. Let's say you've monitored 200 on 02:00pm and corrected this bolus insulin (with 2 hours effect time) based on your correction rule. Next time you got a BG value of 100 on 06:00pm and you know your correction was right. In such a case without optimization you would get an average of 150. But what has really happened? Because of your correction you've had a BG of 100 since 4pm and from this point it was on the same level up to your next monitor time at 06:00pm. The interpolated average is now 140 - 10 off which makes a big difference for the A1C... The results should now be pretty more realistic. Details

2003-11-03 Calculation of A1C
In the statistic form you can see the calculated A1C-value for your monitored blood glucose values. The calculation is based on the following formula: A1C = (BG [mg/dl] + 100) / 36 Details

2003-10-15 Statistic analysis of the blood glucose values
The Ce-application now calculates several statistic values and shows a pie chart for the results. Details

2003-07-01 WinCe prototype finished.
The first prototype is completed with eVB. Now I can enter my data and make the database growing. Details