SiDiary for Android - Manual - Setup
(
Please click here to download the manual in PDF format
)
Content:
After you have started the app you will see this profile wizard, which will help you to make the main settings. There you can select the language of the app, then you can select, if you want to enter your BG readings in mg/dl or mmol/l and the unit of your weight.
Very important: You can choose, if you want to use an exchange unit for your carbohydrates, like BE or KE.

If you don't select an exchange unit, your carb intake will be stored in gram!

In this case the bolus calculator works according to the American formula:
Bolus = Carbohydrates divided by carb/insulin ratio.

If you activate the exchange unit, the bolus calculator works according to the European formula:
Bolus = BE multiplied with BE-Factor
In 'Setup' you can adjust the settings for the app or get the information which version of the app you are currently using.
You can also rate the app. Please consider: If you want to complain about something, please contact us prior to the review. Usually we're able to elucidate misunderstandings or help with problems you may have.
In the profile settings you can adjust which unit you prefer for measurements (weight, blood glucose, carbohydrates) and which is your target range for blood glucose.
If you want to track your carbohydrates in 'gram' then let the exchange unit deactivated. Otherwise activate and name it (as 'BE' or other name) and set a ratio (here it is for example '12', which means that 1 BE = 12 gram carbohydrates).
You can adjust the target range for your blood glucose with min. and max. value. This range will be shown in the logbook as green fields. (The display in this example shows the value in mg/dl, but of course you can also use mmol/l)
For more settings like language, time-/date format or numbers of columns in the logbook please tap on 'Settings' in the section 'Setup'.

The 'Programsettings' section is divided in 'Main logbook data' (like BG, carbs, bolus and so on) and 'Data types'. You can adjust here which lines you want to use in the logbook. Data types must be synchronized from 'SiDiary Online' first before you can adjust them. The app supports all data types which you can also use with the PC version of SiDiary or 'SiDiary Online'. So you are free to track everything you can imagine.
In 'Data storage location' you can adjust where to store your data. If you want to store it on your card please activate this option. It is made to make it easier to back up your data directly from the device. Please note: this setting is for future entries only. So if you have previously entered some data it will not be copied to your new storage location. In this case you should synchronize with SiDiary Online first.
To backup your data now you can simply connect your device or storage card to your PC. You will find the data in the path '\Android\data\com.sidiary.app\files\' like shown in the pictures below.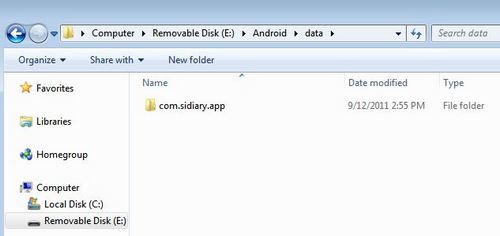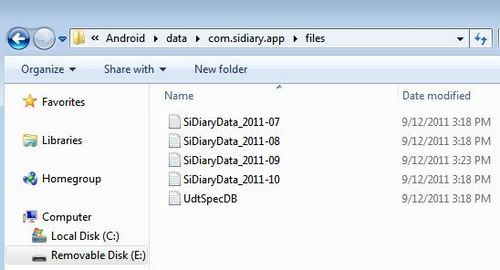 In this way you can also insert previously backuped data back to the app (maybe after a fresh install):
- start the App
- Setup ->Settings ->Data storage location ->SD-Card
- connect the device with your PC
- copy back all files you have backuped
The option 'Round times to 5 minutes' allows you to set the time handling in the same way as it is possible in the PC version.

Under 'Color-Text' you can change the text color of the app (the default color is blue) according to your wishes.
In the item 'Synchronization' please enter (optional) your username and password that you have chosen for the login in SiDiary Online. After that you can always sync your data from the app with SiDiary Online in the Sync tab.
You can also automate the synchronization. Either once a day to an arbitrary time (when you are at home and can use your Wi-Fi) or every time you exit the app. This also works, when you put the app in the background only mode!.
You can adjust the Android app, so that it will send a short message if you exceed or underrun a limit of your blood glucose level to a previously entered mobile phone number.
This could be your diabetes team and for children their parents, so they would be noticed and can provide help if needed.
Under SMS-Recipient please enter the name and phone number of the person, who should receive this SMS.
Under Limits you can define the range, which should not be exceed or underrun.
As Patients name please enter your name, so that the recipient knows who sent the SMS. You can also protect these settings with a password, so only persons who knows this password are able to change the SMS-Settings. At last you can determine, if the patient should be asked if the SMS really should be send or if it will be send anyway.
Here you can unlock the app with your SiDiary license which also is for your PC version, depending on which license type you have purchased: the subscription license or the standard license.

If you have purchased a subscription license please select the first option and enter you username and password you have used at SiDiary Online (please take care of the case sensitivity in your password). Then click 'Register' to finish the registration.
If you have purchased a standard license, please select the second option instead. There you can enter your transaction number (starting with the letter 'M') and then press on 'Register'.
In the section 'Setup' please tap at 'About' to see the version number of your app.
Of course we would be grateful if you would also share your experiences of our app with other users. The easiest way to do so is with the option 'Rating SiDiary'.
It allows you in a very easy way to post your opinion on Google Play.

A request in this regard:
If you have a problem or a particular function could not be found right away, please contact us at info@sinovo.net before you rate the app. In most cases we can help you very fast solving the problem.